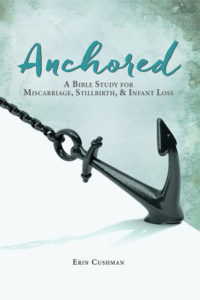 This 6-week interactive Bible study for Miscarriage, Stillbirth and Infant Loss: Anchored by Erin Cushman, will be offered Jan 10-Feb 14.  Please rsvp to: melanie@kidsjoiningeternity.org if you are interested. Any other questions, please call (405) 802-5739.
More about the book:
One in four pregnancies ends in devastating loss. Grief hits like a tidal wave, as endless questions batter your soul. Anchored invites you to grieve in an honest and faith-filled way. With personal stories, seasoned insight, and gentle questions, you are invited to lay our deepest hurt at the foot of the cross and allow God to anchor your brokenness.
You will see below quotes from past participants; we really believe this study will help you on your journey of healing and we hope you will consider joining us!
"Meeting other women who "get it" is invaluable. Having a set time each week when you know you can talk about your baby, your feelings, and your life is very comforting. I couldn't make it through without the support I've received."
"It has given me strength and comfort!"
"It's very comforting to experience this with other women who have unfortunately suffered a loss. This group has changed my life for the better."
"It's important to be around people who get it; just talking with ladies who understand."
"That I am not alone, that someone cares."