When JB and I started Kids Joining Eternity, it was with the intent for it to represent and be for all the families we encountered who had suffered the death of a child. I'm pleased and honored these families, in addition to our Board, will be donating more time to assisting us now with helping families in our community. We are very lucky to have them!
Elizabeth and Terry Hepner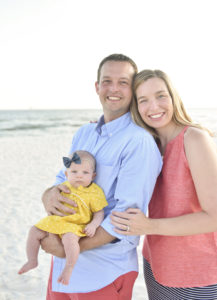 "Terry and Elizabeth Hepner reside in the Oklahoma City area. In June of 2015 they experienced the loss of their first child, Grace, who was stillborn. A year later they brought home their rainbow baby, Paige Margaret. They aspire to give back and donate their time by providing support to other grieving families in honor of their daughter Grace. The support they have received from Kids Joining Eternity not only helped them after the loss of Grace but also gave support and comfort during Elizabeth's pregnancy with their second child. They hope to be able to extend that compassion and support to other families in need. KJE is thrilled to have them join us more often and to be there for families in need."
Tracy and Cooper Johnson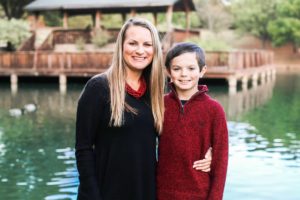 "My daughter, Trinity Hope, was born on October 26, 1999. She arrived early due to premature rupture of membranes caused by an incompetent cervix. My tiny little girl weighed 1 lb. 6 oz. but had a fiery temper that we all witnessed very quickly after birth. She fought hard for 17 days in the NICU but passed away on Nov. 14, 1999 at 17 days old.
Eight years later, I became pregnant with my son, Cooper. It was the scariest, most trying time in my life. While we were more aware of my incompetent cervix and took the precautions of having a cervical cerclage, each day that passed felt like an eternity. I knew just how important each day in utero was for the baby. He did try to come into this world a little early, so I was put on bedrest for the last few months of pregnancy. He arrived in July of 2007 as my perfect, healthy rainbow baby.
My son, Cooper, and I live in Edmond, Oklahoma. I work for Edmond Public Schools as a speech-language pathologist. In the last two years, I have opened my home to be a foster parent. We have a beautiful baby boy that has been living with us since his birth. I have found that fostering and caring for these sweet babies definitely helps my heart heal.
I am so thankful for Kids Joining Eternity because it has given me the support and encouragement I need to openly talk about my child. It has helped me deal with deep loss that comes with losing a child. I believe it is so helpful to connect with other families that have also had these life changing experiences, and not feel like I am alone in this struggle. I know how hard it is at each holiday, birthday, first day of school, and other big events when your child crosses your mind and you feel everyone else has forgotten but you. I want to reach out and help any family that feels this way and to let them know that their child is not forgotten."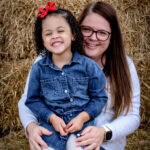 Vallery and Kynlee
"The friends, compassion and strength I've gotten from everyone involved with Kids Joining Eternity has made a tremendous impact on my healing process. They help you cope with others who don't understand, learn to navigate your new way of life and that's it's ok to not be ok every single day. We still miss Kaleb with every breath we take but having friends from KJE makes it a bit easier."
In addition to these families, we also have moms who are volunteering and taking on more leadership roles. Without these ladies, we could not serve all our families like we do and we appreciate each one of you!
Kim Ferguson
Lauren Kautz
Jessica Collum
Swathi Nadu